March 12, 2022
Si Commons, St. Louis University High School
Theme: Made New: Becoming the Woman God has Called you to be
See the flyer here.
Julianne Stanz


I believe that life is a sacred adventure, a pilgrim road where we travel together sharing the gift of precious stories. Won't you join me on this journey?

My life, like most people's life is a wild messy place where God is at work. For over twenty years I have spoken throughout the world on the topic of faith, spirituality and ministry integrating lessons from my Celtic roots into my talks, seminars, retreats and writings. In packed conference halls filled with people from all walks of life and religious traditions, to small rooms filled with ordinary-extraordinary people, I have spoken of the power of faith and spirituality in a way that is as accessible and familiar as sharing a lovely cup of coffee or tea on a damp day.
Those who come to my retreats, talks and seminars share their hopes and dreams but also their exhaustion and weariness with life, with their faith and many times with God. At the heart of my life and ministry is a desire to encourage others as fellow pilgrims journeying on the road of life together. The word "encourage" comes from the old French and means to "put heart into" and I strive to infuse my writings, talks and retreats with snippets of spiritual wisdom sprinkled with a dose of Irish hospitality and humor.
I grew up in a picturesque village set in the Wicklow Mountains and have been profoundly influenced by my life in Ireland and the witness of saints such as St. Patrick and St. Brigid. The prayers and traditions of ancient Ireland settled into my bones, carried me through many struggles and strengthened the practice of my Catholic faith.
The ancient Irish, known for their love of threshold places, places at the edge of life such as Sceilig Mhicil off the coast of Co. Kerry, were never afraid to explore God in the known and also the wild barren edges of life. We should not be afraid either. God that was near and dear to saints and sinners of all generations, is the same God who can be near to us as well.
Each one of us has places in our own lives where we feel God's presence in a way that stirs our soul. Searching for God is an act of abandonment, a wild adventure where we leave the known for the unknown, the comfortable for the uncomfortable, in short, we step outside of our comfort zones. As the Irish wise word or seanfhocal says "what is not worth seeking, is not worth finding". So join me on this journey as together we dip into this pilgrim space where a great lake of spiritual wisdom awaits.
To listen to Julianne's first talk from the 2022 CWFC Conference (Conversion) - click here.
To listen to Julianne's second talk, Evangelization - Click here
Share Prayer - A Quick guide to Intercessory Prayer
Buy Julianne's Book! Braving the Thin Places - Discount Code
Chika Anyanwu


Chika Anyanwu is a Catholic evangelist, youth & young adult minister, the author of "My Encounter: How I Met Jesus in Prayer," and the Director of Formation and Events for Vagabond Missions. Her love of God and neighbor enthuses her to share the gospel through testimony, scripture, and honest conversations about the difficult realities of faith and life. Chika is a part of a beautiful Nigerian family, loves her coffee black, and desires sainthood for herself and you, although bad drivers challenge her sanctity.!
What I'm learning today and will need to learn forever: Jesus, You want less from me and more of me.
To listen to Chika's talk from the 2022 CWFC Conference - click here.
Fr. Paul Hoesing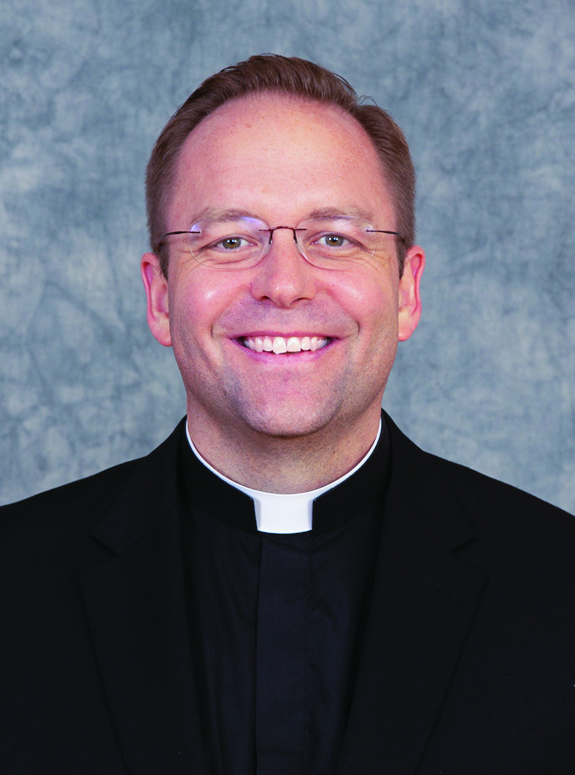 Father Paul Hoesing is a priest of the Archdiocese of Omaha and serves as Vice Rector for Formation at Kenrick-Glennon Seminary in St. Louis, Missouri.

Raised in rural Nebraska, Fr. Hoesing earned a Bachelor of Arts in Biology from the University of Saint Thomas in St. Paul in 1998, as well as a Baccalaureate in Sacred Theology and a Licentiate in Dogmatic Theology from the Pontifical Gregorian University in Rome in 2001 and 2003, respectively.

Since his ordination in 2002, Fr. Hoesing has served in parish ministry, taught in Catholic high schools and at the Institute for Priestly Formation, and worked as Director of Catholic Campus Ministry at the University of Nebraska at Omaha. Fr. Hoesing was named Director of the Office of Vocations for the Archdiocese of Omaha in 2008 and was elected President of the National Conference of Diocesan Vocation Directors in 2013. In 2015, Fr. Hoesing joined the faculty of Kenrick-Glennon Seminary as Dean of Seminarians and Director of Human Formation, before being named Vice Rector in 2019. When the seminary's academic calendar concludes, he spends the summer directing 8-Day retreats for IPF in June and the 30-Day retreat in July at Broomtree Retreat Center in South Dakota. Broomtree happens to be 25 miles from his family's farm in Nebraska. Fr. Hoesing is the author of Have I Been With You?, a primer on prayer.
To listen to Fr. Hoesing's Talk - Click here.
Host:
Rachel Leininger

My name is Rachel Leininger. I serve as a full-time mama, speaker, and author.
When I was 14, I had an encounter with Jesus that set the course of my life: continually growing in relationship with Him and His Church. I've been serving in youth ministry since 2006, as a volunteer Core member for my home parish until 2017 and a professional retreat leader/chastity educator for the REAP Team of the Archdiocese of Saint Louis until 2019. I "retired" to spend more time serving our growing family and am always happy to get out of the house to help serve the Church as I'm able.
Over the years, I've been honored to partner with Life Teen, Steubenville Youth Conferences, Blessed is She, the National Federation of Catholic Youth Ministry, and dioceses and parishes around the country. I love working with youth, young adults, Core teams, parishes, and young people of all ages.
I wrote a book for your high school-aged friends called 'The Next Step: A Catholic Teen's Guide to Surviving High School.' Some of my favorite things include Cardinals baseball, coffee, the virtue of chastity, and baked goods. I live in St. Louis, MO with my professional nerd husband, David, our two hilarious and adorable baby girls. You can connect with me on Twitter and Instagram at @raleininger or reach out via the contact form here.
Worship:
Carrie Bajzath