March 11, 2023
Si Commons, St. Louis University High School
Theme: NEW LIFE: Renewed in God's love
Katie Prejean McGrady

Katie Prejean McGrady is a wife, mom, award-winning author, international speaker, podcaster & daily radio show host.
After working in youth ministry and high school education for a number of years, Katie began speaking full time in 2017, averaging over 100,000 miles a year traveling to speak at events for young people, parishes, parent groups, fundraisers, retreats, religious education conferences, and more.
Katie began working with Ave Maria Press in 2019 to help create digital and audio content for Ave Explores, a multi-media project digging into various Catholic topics relevant to people who want to learn more and live their faith in a real, practical way. She hosts the Ave Explores podcast, a long-form interview style podcast that topics relevant topics each season. The show has accumulated over 300,000 downloads and has been honored by the Catholic Media Association. Katie also hosts Like a Mother, a new podcast about the joys, struggles, and ins and outs of motherhood. Like a Mother is an OSV podcast production.
Katie regularly writes for Blessed is She, Our Sunday Visitor, Aleteia, and the Grotto Network. She appears as a Catholic commentator on CNN, and is a consultant for the USCCB working group on youth and young adult ministry
In Spring of 2021, Katie began hosting The Katie McGrady Show, a daily radio program on The Catholic Channel on Sirius XM 129 that talks about pop culture, current events, Catholic news, how to live a life of abundant joy, and introduces listeners to a variety of engaging, dynamic, and profoundly inspiring guests.
Katie makes her home in Lake Charles, LA with her husband, Tommy, and daughters, Rose and Clare.
Sr. Karolyn Nunes
Sister M. Karolyn Nunes entered the Sisters of St. Francis of the Martyr St. George in 2005. A native of Rhode Island, she is a graduate of Franciscan University of Steubenville having received a Bachelor's degree in Theology with a concentration in Religious Education and a Masters in Catechetics and Evangelization. Over the past 17 years, she has worked in the field of catechetics and youth ministry in parishes and schools in Tennessee, Illinois, New Jersey, and Kansas. She has discovered in her consecration, community life and apostolate the truth that "The Glory of God is man fully alive." Nothing brings her more joy than to share that fullness of life and the merciful love of Christ with others and to help them to find the same in God's incredible plan for their lives which is her current task as vocation director for her community. In taking her religious name after Pope St. John Paul II, her goal is to live his encouragement to "Be Not Afraid" and "Duc in Altum…Put out into the deep," never settling for shallow living. She loves road trips, the ocean, arts and crafts, and has a reputation for being a human jukebox.
Fr. John Schneier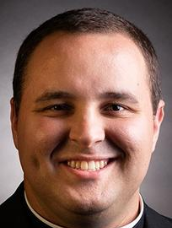 Father John Schneier is a priest of the Archdiocese of St. Louis currently serving as Associate Pastor at Incarnate Word parish in Chesterfield and as the Chaplain for the Newman Center At Maryville University. He was ordained in 2017 and is mildly passionate about St. Louis Sports.
Worship:
Carrie Bajzath