2018 St. Louis Catholic Women for Christ Conference
March 10, 2018
9th Annual Conference
Touhill Performing Arts Center, UMSL

Theme: Women at the Heart of the Church
Emcee: Elizabeth Westhoff
Gloria Purvis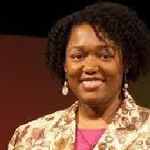 Gloria Purvis graduated from Cornell University with a Bachelor's of Science in Human Development and Family Studies. She worked for more than a decade in the mortgage and finance industry before becoming a policy manager at a major financial services company.
She served as Chairperson of the Culture of Life Committee and Coordinator of the Young Adult Association at St. Augustine Catholic Church in Washington, D.C. from 1998 to 2002 and on the Archdiocesan Pastoral Council for the Archdiocese of Washington from 1999 to 2003.
Gloria is a Board Member for the Northwest Pregnancy Center and Maternity Home in Washington, D.C. and an Advisory Board Member on the Maryland Catholic Conference's Respect for Life Department. She serves on the National Black Catholic Congress Leadership Commission on Social Justice. She co-chairs the Catholic Employee Network at a major financial services company. She is the Chairperson for Black Catholics United for Life which seeks to increase the size and strength of active Black Catholics participating in the pro-life movement.
Gloria especially enjoys speaking to young people about the truth and has done so at many conferences as well as on television.
Mary Beth Bonacci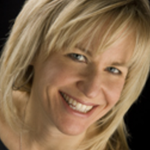 Mary Beth Bonacci is an internationally known speaker. Her major addresses include 10,000 teenagers in Monterrey, Mexico, 75,000 people at World Youth Day in Denver, Colo., 22,000 people at the TWA Dome during the Pope's visit to St. Louis, plus a national seminar for single adults in Uganda, Africa. She does frequent radio and TV work, and has made several appearances on MTV. She is the author of We're On A Mission From God and Real Love, which has been translated into six languages. Mary Beth holds a bachelor's degree in organizational communication from the University of San Francisco, a master's degree in Theology of Marriage and Family from the John Paul II Institute, and an honorary Ph.D. in communications from the Franciscan University of Steubenville. Request advice from Mary Beth to be shared on "Faith, Hope & Love" at askmarybeth@catholicmatch.com. Her website is http://www.reallove.net.
Sr. Virginia Joy, Sisters of Life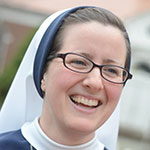 Sr. Virginia Joy entered the Sisters of Life in 2009. A native of South Carolina, she currently serves as the Director of the Respect Life Office for the Archdiocese of New York. Prior to this position she served in the community's Vocations Office and most recently in their Visitation Mission, serving women in crisis pregnancies tempted to abortion.